Brand History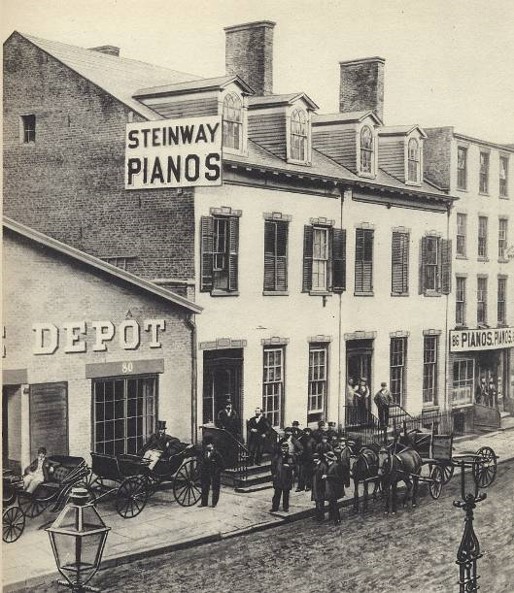 The humble beginnings of Steinway & Sons started in the kitchen of Heinrich Engelhard Steinweg's home in Seesen Germany, where he built his first piano in 1836. This instrument will go on to be known as the Steinway No.1 (also fondly named The Kitchen Piano).
Due to a period of severe economic depression in Germany, and driven by the desire to perfect his piano designs, Heinrich Engelhard Steinweg decided to head to the New World with his family, arriving in New York on 29th June 1850.
3 years later, and after Americanizing his name to Henry E. Steinway, the Steinway & Sons piano company was founded. The company grew rapidly and within their first year, production was at 2 units a week, with annual sales hitting 74 pianos. By the 1860s, Steinway & Sons had become a household name in America and was producing over 1,800 pianos a year. In 1866, the 2,000 seat Steinway Hall opened, and immediately became America's artistic and cultural centre, housing the New York Philharmonic up till the opening of Carnegie Hall.
After Henry's passing in 1871, his sons Theodore and William assumed directorships in the Steinway firm, each taking a crucial role in shaping the future of the company. Theodore Steinway made remarkable innovations in piano manufacturing and alone was responsible for more than 45 design patents, while his brother William was a marketing genius and went on to become an influential civic leader in New York City. To increase their appeal to other markets, the first overseas Steinway Hall was opened in London in 1875, and following that a factory was established in the city of Hamburg in 1880 to meet the rising demands for Steinway Pianos.
The legacy of the Steinway Family is still seen in today's business operations where the New York Factory produces mainly for the American market, while the Hamburg Factory supplies pianos to the rest of the world. Internally, Steinway & Sons also runs the Theodore Steinway Academy for Concert Technicians, and the William Steinway University for Steinway Sales Professionals.
167 years after its founding, Steinway's principle remains the same, staying true to Henry E. Steinway's motto of "Building The Best Piano Possible".