1853
After Americanizing the family name to "Steinway", and Henry Engelhard Steinway and his sons founded Steinway & Sons in a Manhattan loft on Varick Street.
1857
Henry Steinway Jr. was awarded first patent for grand piano action; this is the first of over 139 patents that Steinway will be awarded.
1872
William Steinway engaged the great Russian pianist Anton Rubinstein to play an American concert tour in 1872, with 215 concerts in 239 days; Anton Rubinstein went on to become the first Steinway Artist.
1875
The European sales office was opened in London to cater to the growing demand for Steinway Pianos in Europe.
1880
Founding of the Hamburg Steinway factory on Schanzenstraße.
1902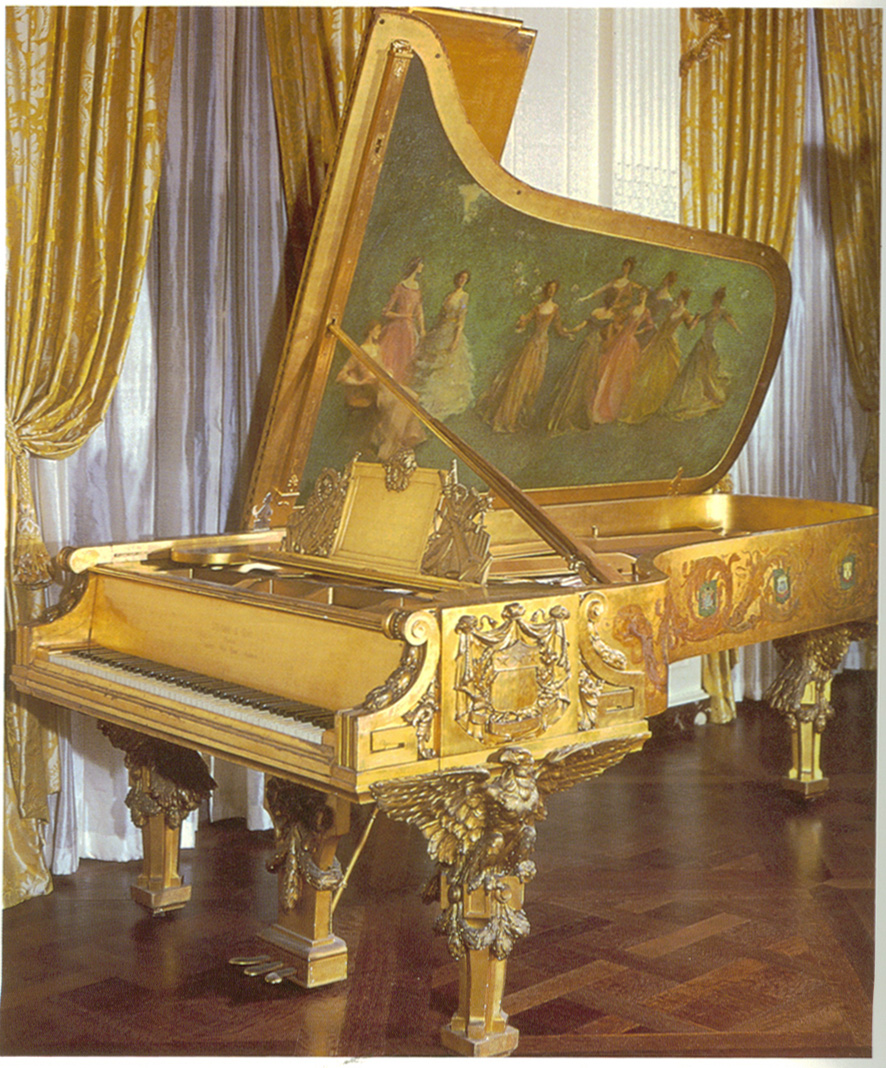 The grand piano with the serial no. 100,000 is created specially for the White House and presented to then-president Theodore Roosevelt as a gift from the Steinway family to the American people.
1924
The Juilliard School, New York becomes an All-Steinway School.
1992
The Boston Piano designed by Steinway & Sons was launched. Boston Pianos represent a singular achievement: a superior playing experience at a price level never before thought possible.
1994
Opening of the Steinway Academy, the C. F. Theodore Steinway School for Concert Technicians, the first academy for concert technicians worldwide.
1996
Steinway Musical Instruments, Inc goes public on the New York Stock Exchange and was traded under the abbreviation LVB, for Ludwig van Beethoven.
1998
Steinway & Sons acquired Kluge, Europe's largest manufacturer of piano keys.
1999
Steinway Musical Instruments purchased O.S. Kelly, the largest manufacturer of piano plates in the United States.
2001
The Essex Piano designed by Steinway & Sons is presented to the piano world and the company is now in the position to offer instruments in three price categories to fulfill each individual demand.
2007
There exist no contracts with the artists, which commits them to Steinway & Sons. The majority of professional pianists prefer a Steinway instrument. Approximately 99% of all concert pianists chose, in the last concert season 2006/2007, a Steinway.
2015
Steinway & Sons introduced a new product - SPIRIO the World's Finest high-resolution player piano that is built seamlessly into the instrument during the manufacturing stages.
2019
Steinway & Sons announced the acquisition of Louis Renner GmbH & Co. KG, which manufactures complete grand and upright piano actions.
Steinway & Sons unveiled the latest evolution of the SPIRIO innovation, the SPIRIO | r the world's finest high-resolution player piano system capable of live performance capture and playback